PotsdamFire.org
News Ticker
2015 Incidents
January
40
February
54
March
33
April
48
May
53
June
July
August
September
October
November
December
Total
228
2014 Incidents
January
46
February
41
March
31
April
48
May
38
June
41
July
57
August
40
September
43
October
65
November
40
December
33
Total
523
Previous Incidents
2000
253
2001
300
2002
305
2003
362
2004
383
2005
360
2006
438
2007
419
2008
505
2009
518
2010
550
2011
524
2012
549
2013
534
2014
523
Potsdam In Pictures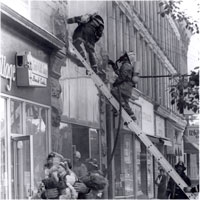 WELCOME TO THE WEBSITE OF THE
POTSDAM FIRE DEPARTMENT
A Squirrel was the Culprit of Transformer Explosion/Power Outage

1st Assistant Fire Chief Danielle Rose, July 05

On July 7, 2015 at approximately 7:15, Potsdam Fire Department was dispatched to the vicinity of Clarkson Ave for a transformer explosion/ utility pole fire/power outage. Engine 49 checked out of service immediately.

Upon arrival firefighters found a utility pole on fire on Clarkson Ave across from the entrance to Clarkson Hamlin-Power dorms. Potsdam Police blocked off access to Clarkson Ave from ... (Full Story & Photos)

One of Potsdam Fire Department Members Graduates High School!!

1st Assistant Fire Chief Danielle Rose, June 27

The members of the Potsdam Fire Department would like congratulate one of our members, Justin T. McGregor, on the completion of graduating Potsdam Senior High school last night!! Justin is a third generation firefighter with the Potsdam Fire Department and currently works alongside his grandfather Tommy McGregor (40 year member), Father Danny McGregor (25+ year member), Brother Josh McGregor (5 year ... (Full Story & Photos)

Water Line Break Causes Basement to Flood

1st Assistant Fire Chief Danielle Rose, June 16

On June 16, 2015, at approximately 23:36, Potsdam Fire Department was dispatched to 20 Riverside Drive for a report of a basement filling up with water. Per dispatch the resident was unsure if it was due to the high water levels of the river behind the house or if there was another issue. Rescue 30 responded a short time later with a full crew.

Upon arrival firefighters worked quickly to remove the ... (Full Story & Photos)



Firefighter Justin McGregor assessing the situation.

Man Leaves Scene of an Accident After Shearing Off a Utility Pole

1st Assistant Fire Chief Danielle Rose, June 03

On Saturday May 30, 2015, at 20:49, Potsdam Fire along with Potsdam Rescue, was dispatched to a car into a pole in the vicinity of Lower Pine Street and the River Road. Engine 49 and Rescue 14 responded immediately with a few crew.

Upon arrival firefighters found a utility pole that was sheared off lying in the roadway with power, cable, and telephone lines down. No vehicle or patients were in the ... (Full Story & Photos)

Click headline for top content from Firehouse.Com
The Web's Community & Resource
for Fire, Rescue, EMS & Safety