PotsdamFire.org
News Ticker
2018 Incidents
January
February
March
April
May
June
July
August
September
October
November
December
Total
0
2017 Incidents
January
30
February
44
March
53
April
53
May
46
June
53
July
60
August
50
September
62
October
54
November
53
December
38
Total
596
2016 Incidents
January
34
February
61
March
34
April
48
May
40
June
34
July
44
August
51
September
55
October
54
November
34
December
43
Total
532
2015 Incidents
January
40
February
54
March
33
April
48
May
53
June
32
July
49
August
55
September
39
October
44
November
44
December
47
Total
538
2014 Incidents
January
46
February
41
March
31
April
48
May
38
June
41
July
57
August
40
September
43
October
65
November
40
December
33
Total
523
Previous Incidents
2002
305
2003
362
2004
383
2005
360
2006
438
2007
419
2008
505
2009
518
2010
550
2011
524
2012
549
2013
534
2014
523
2015
538
2016
532
Potsdam In Pictures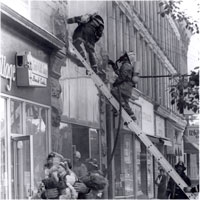 National Weather Service Alerts for St. Lawrence County, NY
WELCOME TO THE WEBSITE OF THE
POTSDAM FIRE DEPARTMENT
A Special Thanks to the Community for Their Outpouring of Support

Fire Chief Danielle Rose, December 10

The members of the Potsdam Fire Department would like to thank the community for their outpouring of support for our recently revived firehouse tradition, the Christmas Tree Fundraiser. With your steadfast support, the members were able to sell over 300 Christmas Trees in just 15 days!!!!

Once again we thank the community for their continued support of the Potsdam Fire Department!

We hope to see ... (Full Story & Photos)


Schwan's Delivery Truck Misses Driveway While Backing Up

Fire Chief Danielle Rose, November 30

On November 30, 2017, at approximately 8:34PM, the Potsdam Fire Department were dispatched to 748 Old Potsdam-Parishville Road for a report of a possible propane leak on a Schwan's delivery trucks.

Engine 80, Rescue 14, and 36-1 were enroute at the time of dispatch.

Upon arrival, it was determined that the Schwan's truck was backing out of a residences driveway when the driver lost sight of the ... (Full Story & Photos)


Potsdam Fire Department Christmas Tree Sales to Begin November 24th!

Fire Chief Danielle Rose, November 22

The members of the Potsdam Fire Department are once again reviving an old firehouse tradition of selling Christmas Trees!! All trees will be beautiful Balsam trees, ranging from 5ft to 12ft tall and will cost $40.00 apiece. There will be free delivery within the Potsdam Fire Department fire protection area!

The area of sales will take place at the Potsdam Fire Station located at 42 Main Street, Potsdam ... (Full Story & Photos)


Have A Safe Thankgiving By Practicing Good Fire Safety!

Fire Driver Robert Crowe, November 20

Thanksgiving is this week. Let's make it fire safe by sharing the following safety messages.

As you plan your Thanksgiving menu don't forget about fire safety.

Did you know Thanksgiving is the peak day for home cooking fires? The number of home fires double on Thanksgiving. So, let's add a pinch of fire safety to the menu.

Keep these safety tips in mind as you prepare your meal.

Turkey:

If you ... (Full Story & Photos)



A firefighter, left, attempts to put out a fire after a frozen turkey was dropped into a hot deep fryer at a Consumer Product Safety Commission safety demonstration in Rockville, Maryland, on Nov. 22. Gary Cameron / Reuters


Winter Weather Brings Multiple MVA's

Fire Driver Robert Crowe, November 20

The onset of winter weather was the cause of several accidents this morning. At 0719 Potsdam Fire was dispatched to Leroy Street in the vicinity of Potsdam High School for a reported 3 vehicle MVA. Upon the arrival of Engine 49, it was determined that there was in fact two accidents, with the second being a 2 vehicle MVA with air bag deployment. Members established traffic control, closing the roadway ... (Full Story & Photos)


Two Car Accident on U.S. Highway 11: No One Injured

Fire Chief Danielle Rose, November 17

On November 17, 2017, at approximately 4:10PM, Potsdam Fire, Potsdam Rescue and County Car 7 were dispatched to a two car accident in the vicinity of 7788 U.S. Highway 11.

Engine 80 and Recue 14 responded.

Upon the arrival of Engine 80, it was determined that the accident was at the intersection of the Regan Road. No extrication was needed and all occupants of the vehicles involved refused medical ... (Full Story & Photos)



Annual Rag-A-Muffin Parade Will Be Held On October 28th!

Fire Chief Danielle Rose, October 26

The members of the Potsdam Volunteer Fire Department along with the Potsdam Kiwanis Club will be holding the annual Rag a Muffin parade on Saturday October 28th. The parade will start at 11 am and leave from the Main Street Municipal parking lot across from the movie theater. Parents and kids will be led around the block by members of the Kiwanis, Kkids, Builders Club, and Circle K leadership clubs. ... (Full Story & Photos)



We are hoping to have the old firetruck up and running once again for the parade!


One Car Motor Vehicle Accident on the Wheeler Road

Fire Chief Danielle Rose, October 24

On October 24, 2017 at 7:42PM, Potsdam Fire and Potsdam Rescue were dispatched to the vicinity of 102 Wheeler Road for a personal injury motor vehicle accident.

A group of members were at the firehouse and responded with Engine 80 immediately. Rescue 14 responded a short time after.

Upon arrival, the members assisted Potsdam Rescue for a short period of time before being released from the scene. ... (Full Story & Photos)


Tree Knocks Out Power to the Village of Potsdam

Fire Chief Danielle Rose, October 19

On October 19, 2017 at approximately 3:33PM, Potsdam Fire was dispatched to the vicinity of Elm Street and Morningside Drive for a report of power lines down in the roadway.

Engine 49 responded with a full crew.

Upon arrival, it was determined that a tree had fallen down on Morningside Drive, knocking down primary wires and breaking a pole in half that had a transformer on it. As a result, most ... (Full Story & Photos)