PotsdamFire.org
News Ticker
2017 Incidents
January
30
February
44
March
53
April
May
June
July
August
September
October
November
December
Total
127
2016 Incidents
January
34
February
61
March
34
April
48
May
40
June
34
July
44
August
51
September
55
October
54
November
34
December
43
Total
532
2015 Incidents
January
40
February
54
March
33
April
48
May
53
June
32
July
49
August
55
September
39
October
44
November
44
December
47
Total
538
2014 Incidents
January
46
February
41
March
31
April
48
May
38
June
41
July
57
August
40
September
43
October
65
November
40
December
33
Total
523
Previous Incidents
2002
305
2003
362
2004
383
2005
360
2006
438
2007
419
2008
505
2009
518
2010
550
2011
524
2012
549
2013
534
2014
523
2015
538
2016
532
Potsdam In Pictures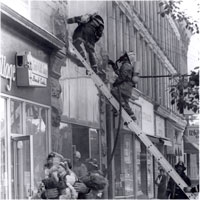 WELCOME TO THE WEBSITE OF THE
POTSDAM FIRE DEPARTMENT
Flushing of Village Hydrants- April 16th-21st.

Fire Chief Danielle Rose, April 11

The members of the Potsdam Fire Department would like to share with the residences of the Village of Potsdam that the Public Works Department will be flushing fire hydrants on April 16th through April 21st. Flushing of hydrants will take place between the hours of 10PM and 6AM. If you experience discolored water, let the water run and it should clear.

Any questions, please contact the Department ... (Full Story & Photos)

Potsdam Fire Closes A Successful 2016-2017 Year!

Fire Chief Danielle Rose, April 10

As the 2016-2017 year comes to a close for the members of the Potsdam Fire Department (our year closes on April 1st), we would like to take a minute to share some of the department's milestones of the year.

In 2016-2017, the members of the Potsdam Fire Department responded to a total of 530 incidents. Of those 530 incidents, Potsdam Fire responded to Clarkson University 101 times, SUNY Potsdam 98 ... (Full Story & Photos)

In Memoriam

Firefighter James Corbett, April 07

The members of the Potsdam Vol. Fire Dept. extend their deepest sympathies to the family of Honor Roll Member Wayne Brown. Wayne passed away on 4/7/17. Wayne served in the Dept. from 1974-79. Calling hours will be held Thursday April 13th, at the Garner Funeral Home from 5-7 pm with service to follow.... (Full Story & Photos)

New Slate of Chiefs Elected

Firefighter James Corbett, April 07

The Members of the Potsdam Fire Department selected a new slate of officers at the Annual Meeting held on 4/7/17. The members elected Danielle Rose as the Chief to lead them for the next year. Tim Jerome was elected to the First Assistant Chief's position. Jerrid Lavoie was elected as Second Assistant Chief and Justin Perry rounded out the chiefs ranks at Third Assistant Chief. All four will serve ... (Full Story & Photos)



From L to R: 3rd Assistant Chief Justin Perry, 2nd Assistant Chief Jerrid Lavoie, 1st Assistant Chief Tim Jerome and Chief Danielle Rose.