2023 Incidents
January
50
February
59
March
31
April
52
May
47
June
42
July
42
August
42
September
October
November
December
Total
365
2022 Incidents
January
50
February
53
March
43
April
42
May
46
June
57
July
41
August
50
September
67
October
58
November
44
December
69
Total
620
2021 Incidents
January
27
February
30
March
41
April
33
May
53
June
37
July
62
August
61
September
61
October
58
November
36
December
68
Total
567
2020 Incidents
January
34
February
32
March
25
April
21
May
34
June
27
July
39
August
46
September
51
October
36
November
44
December
31
Total
420
2019 Incidents
January
47
February
45
March
40
April
37
May
41
June
35
July
62
August
36
September
62
October
54
November
53
December
47
Total
559
2018 Incidents
January
65
February
36
March
29
April
81
May
62
June
31
July
47
August
47
September
60
October
68
November
53
December
32
Total
611
2017 Incidents
January
30
February
44
March
53
April
53
May
46
June
53
July
60
August
50
September
62
October
54
November
53
December
38
Total
596
2016 Incidents
January
34
February
61
March
34
April
48
May
40
June
34
July
44
August
51
September
55
October
54
November
34
December
43
Total
532
2015 Incidents
January
40
February
54
March
33
April
48
May
53
June
32
July
49
August
55
September
39
October
44
November
44
December
47
Total
538
Previous Incidents
2008
505
2009
518
2010
550
2011
524
2012
549
2013
534
2014
523
2015
538
2016
532
2017
596
2018
611
2019
559
2020
420
2021
567
2022
620
Potsdam In Pictures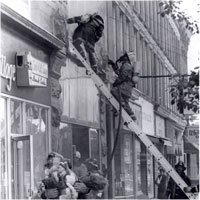 Guestbook
Welcome to the Potsdam Fire Department Guestbook. Your feedback is important to us. Feel free to leave your comments.
| | |
| --- | --- |
| Page of 9 [ Back | Next ] | Records 61 - 90 of 260 |
Signed on February 09, 2009 at 3:13 AM
Guest Name:
Chef Matt
Rank/Title:
Owner
Web Address:
FireFightersBBQ.com
Location:
Tucson , AZ.
Comments:

I really like your website. The pictures are awesome. I would like for you to consider a link exchange with FireFightersBBQ.com. It is a community based website that has something to offer to everyone and all ages. Thank you for consideration of the link exchange. Respectfully yours, Chef Matthew Guzman
Signed on January 23, 2009 at 11:20 PM
Guest Name:
Greg
Rank/Title:
firefighter
Location:
west potsdam
Comments:

To all the member in potsdam nice web site it nice to see what fire department do with there community. god bless u all.
Signed on December 30, 2008 at 8:17 PM
Guest Name:
David M Parker Sr
Rank/Title:
Lieutenant
Location:
Sewanee Tn
Comments:

Sewnee Fire Dept
Signed on December 23, 2008 at 1:57 PM
Guest Name:
Joe
Rank/Title:
Paid Driver
Location:
Tupper Lake, NY
Comments:

Awesome website!, great pics, nice apparatus.
Signed on November 19, 2008 at 6:27 PM
Guest Name:
Arthur
Web Address:
www.lz-waldniel.de
Location:
Germany
Comments:

Fire Department Waldniel going to work:
Signed on October 15, 2008 at 7:13 AM
Guest Name:
Ben Wood
Rank/Title:
Ram Firefighter
Web Address:
www.hfjfd.com
Location:
Hopkinton NY
Comments:

Just wanted to say great looking site. Nice trucks too. Hope to work with you guys in the future.
Signed on October 12, 2008 at 10:13 AM
Guest Name:
Ashley Moore age 6
Rank/Title:
Past Chief Joe Gallagher's granddaughter
Location:
Potsdam
Comments:

Thank you for showing us the fire trucks and stuff the other day when we visited the fire station. I am in Mrs. Sutton's class at Lawrence Avenue Elementary School. It was awesome! My Papa Gallagher is in your department. When I grow up I want to be in the fire department too. Stay safe and rock on!
Signed on September 20, 2008 at 10:11 PM
Guest Name:
JOHN WILLIS (4 y/o)
Location:
Gloucester City, New Jersey
Comments:

Dear Fireman Mike and Uncle Bobby,

The Potsdam Fire Department ROCKS!

I had such a great time seeing the trucks. It was so nice of you to show me all of the really great firefighting equipment!!!!

E-49 was my favorite..... squirting the "mommies" with water was pretty terrific too!

Hope to see you again soon.

Thanks again, John
Signed on September 06, 2008 at 7:19 PM
Guest Name:
HARRY CUMMINGS
Rank/Title:
BRASHER-WINTHROP FIRE DEPT
Location:
WINTHROP,NY
Comments:

GREAT SITE . MY SONINLAW AND GRANDSON ARE MEMBERS OF YOUR DEPT. I'M PROUD OF THE JOB THEY DO.
Signed on August 26, 2008 at 10:19 AM
Guest Name:
Phillip White
Rank/Title:
Firefighter
Location:
Owl's Head- Mt. View FD
Comments:

Very professional site, it looks great. I want to join with you guys, but I don't know if I can swing it with classes here at Clarkson and ROTC.
Signed on August 22, 2008 at 10:39 AM
Guest Name:
amanda white
Rank/Title:
firefighter/E-911 disptacher franklin county
Location:
dickinson
Comments:

great site guys, good looking trucks, keep up the good work
Signed on August 17, 2008 at 12:33 PM
Guest Name:
marsha gregory
Location:
ft myers florida
Comments:

I knew a fellow that was a volunteer fireman named Chris Jesmer, I wondered if anyone knew what happened to him and how to get an email to him? He is a wonderful man and person. Thank you.. and good luck to all. God Bless us All
Signed on July 21, 2008 at 5:12 PM
Guest Name:
Tommy Courtner
Rank/Title:
Emergency Services Director
Location:
Caldwell County Emergency Servcies / North Carolina
Comments:

Great looking Web-site....Keep up the good work
Signed on July 11, 2008 at 3:37 PM
Guest Name:
Pam Buckhalter
Web Address:
www.heartlandarbonne.com
Location:
Topeka KS
Comments:

Hello from Topeka KS!!! :)
Signed on July 05, 2008 at 12:55 AM
Guest Name:
Christopher Mills
Rank/Title:
Fire Luitenaunt/E-911 dispatcher Franklin County
Web Address:
www.freewebs.com/burkevolunteerfiredept
Location:
Burke Ny, Burke Vol. Fire Dept.
Comments:

Hey just, Just wondering If a couple guys from Burke could come visit the station, wanna see E-49 up close. Didnt know what the visiting hours were, haha. Talk to you Later guys, Awesome job, keep it up!!
Signed on July 01, 2008 at 1:38 PM
Guest Name:
jesse sweet
Rank/Title:
firefighter
Location:
nichoville
Comments:

thats a pretty nice truck
Signed on June 22, 2008 at 9:19 PM
Guest Name:
Jerry Cox
Rank/Title:
ex Potsdam FD member (early 70's)
Location:
Sevierville, TN
Comments:

Great site!!! Good to see some old friends pics.
Signed on June 16, 2008 at 2:14 AM
Guest Name:
Pascal van der Meer
Web Address:
feuerwehr-drewitz.de
Comments:

hello from Germany to America.
Signed on June 13, 2008 at 9:28 AM
Guest Name:
Kevin Zweigert
Web Address:
www.feuerwehr-drewitz.de/
Comments:

Nice web page!
Signed on May 07, 2008 at 7:42 PM
Guest Name:
M. Sanchez
Rank/Title:
n/a
Location:
Washington, DC
Comments:

That Mr. Crowe is an excellent writer- he should right a book! You should include more essays like his on the website. Great work!
Signed on May 04, 2008 at 11:51 AM
Guest Name:
Christopher Mills
Rank/Title:
Luitenant/ Firefighter/ E-911 dispatcher
Web Address:
currently under construction
Location:
Burke Vol. Fire Dept. Franklin County
Comments:

Hey guys, Great looking web page. Stay safe out there!!
Signed on April 28, 2008 at 11:41 AM
Guest Name:
Barrie-Lyn Foster
Rank/Title:
Chaplain and West House Captain
Location:
Town of Aurelius, PO Box 7212 Auburn NY 13022
Comments:

I was born in Potsdam, and was a kindergarden student when I toured your fire station back in the 1960's. You just never know how influential those tours turn out to be in the heart of a young child! Keep up the good work.
Signed on April 25, 2008 at 1:10 PM
Guest Name:
Steve Parker (17-40)
Rank/Title:
Firefighter
Location:
Hopkinton-Ft. Jackson F.D.
Comments:

Great lookin' site guys!! Stay safe!!
Signed on April 14, 2008 at 8:40 PM
Guest Name:
David A Sanford
Rank/Title:
West Potsdam Honor Roll
Location:
West Potsdam, NY
Comments:

GREAT site!!! One of the best fire department sites out there. Great job, guys, on the web and in the field.
Signed on April 03, 2008 at 10:18 AM
Guest Name:
Christopher Sherwin
Rank/Title:
St law cty Fire Invest. (32) Morristown Fire & Rescue
Comments:

Great web site. Nice to see so much pride in one dept. Keep up the good work.
Signed on April 02, 2008 at 7:00 PM
Guest Name:
STEVE PARKER
Rank/Title:
EX-WEST POTSDAM FIRE FIGHTER
Location:
LOS ANGELES, CALIFORNIA
Comments:

GREAT SITE!! KEEP UP THE GOOD WORK. P.S. YOU GUYS NEED TO SELL SOME SHIRTS FOR ALL OF US WHO CAN'T REPRESENT HOME. STAY SAFE!
Signed on March 28, 2008 at 11:58 AM
Guest Name:
Jake Gokey
Rank/Title:
Fire fighter
Location:
Bangor
Comments:

Great web site, keep up the good work!
Signed on March 19, 2008 at 9:00 PM
Guest Name:
kenny
Rank/Title:
wanna be firefighter over there
Comments:

i love this site lkeeps me in touch what up over there since everyone i am related to lives in parishville.....keep it up i wish parishville fire pd had a site like this one
| | |
| --- | --- |
| Page of 9 [ Back | Next ] | Records 61 - 90 of 260 |