2023 Incidents
January
50
February
59
March
31
April
May
June
July
August
September
October
November
December
Total
140
2022 Incidents
January
50
February
53
March
43
April
42
May
46
June
57
July
41
August
50
September
67
October
58
November
44
December
69
Total
620
2021 Incidents
January
27
February
30
March
41
April
33
May
53
June
37
July
62
August
61
September
61
October
58
November
36
December
68
Total
567
2020 Incidents
January
34
February
32
March
25
April
21
May
34
June
27
July
39
August
46
September
51
October
36
November
44
December
31
Total
420
2019 Incidents
January
47
February
45
March
40
April
37
May
41
June
35
July
62
August
36
September
62
October
54
November
53
December
47
Total
559
2018 Incidents
January
65
February
36
March
29
April
81
May
62
June
31
July
47
August
47
September
60
October
68
November
53
December
32
Total
611
2017 Incidents
January
30
February
44
March
53
April
53
May
46
June
53
July
60
August
50
September
62
October
54
November
53
December
38
Total
596
2016 Incidents
January
34
February
61
March
34
April
48
May
40
June
34
July
44
August
51
September
55
October
54
November
34
December
43
Total
532
2015 Incidents
January
40
February
54
March
33
April
48
May
53
June
32
July
49
August
55
September
39
October
44
November
44
December
47
Total
538
Previous Incidents
2008
505
2009
518
2010
550
2011
524
2012
549
2013
534
2014
523
2015
538
2016
532
2017
596
2018
611
2019
559
2020
420
2021
567
2022
620
Potsdam In Pictures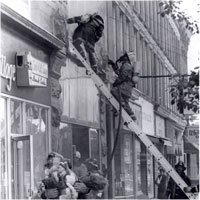 Congratulations on Retirement Fire Driver Pierce!
August 14, 2022

On Sunday August 14th, 2022 after 33 years, Fire Driver Bob Pierce has worked his final shift for Potsdam Fire. Bob started his career with Potsdam Fire in 1989. Bob will continue to be around the department as he currently is County Car 10 as the District 3, deputy coordinator.

Potsdam Fire says thank you and enjoy your retirement!
robert richards
August 21, 2022 at 8:53 AM
Thank You for your service,
Randy Russell
August 21, 2022 at 4:20 PM
Congratulation